G E L L É R T Bath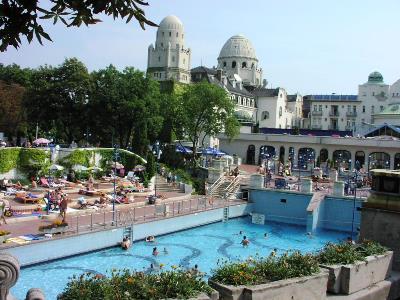 HISTORY:
We find records about the "miraculous" springs spurting up o­n the territory of the Bath from as early a date as the 15th century. These springs were later favoured by the Turks as well, as they were larger and hotter than the Buda baths of the period. In the 17th century, the site was named Sárosfürdő (Mud bath) because of the fine spring silt that was pushed up together with the spring water and settled at the bottom of the pools.
The Gellért Thermal Bath and Hotel, known world-wide and highly favoured by foreigners, built in a secession style, opened its gates in 1918 and was expanded in 1927 by the wave-bath and in 1934 by the effervescent bath. In the course of the modernisation accomplished in our days, the sitting-pool in the swimming complex, the outdoor sitting pool and the children's pool were renovated; they were equipped with a state-of-the art water filtering and circulation device. At present, nearly all healing facilities may be used in the Gellért Thermal Bath. The Bath includes a department offering complex thermal bath acilities (daytime/outpatient hospital), it also has an inhalatorium.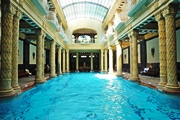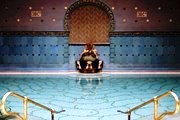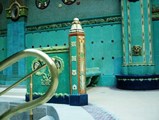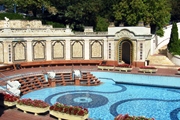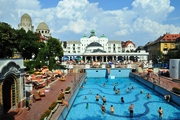 BATH UNIST:
Number of pools: 13
Whirlpool (2) - sitting pool
Outdoor pools (2) – wave pool, adventure pool
Thermal bath department (8) – thermal baths
SERVICES:
Healthcare Services:
day-time hospital
spa physician consultation
dental care
thermal bath for men
thermal bath for women
carbondioxide bath
mud-treatment
steam-bath
sauna
underwater water jet massage
underwater traction-bath
electrotherapy
refreshing massage
medical massage
foot-massage
aroma massage
curative gymnastics
inhalation
Additional Services:
wave pool
whirlpool
sunbeds
rental
catering service facilities
Wellness:
hot stone massage
classic Thai massage
manager massage
HYDRUS package
HELENA package
NARCISSUS package
MIRTUS package
spa therapy (1 week)
full spa therapy (1 week)
full spa therapy (2 weeks)
special therapy (1 week)
special therapy (2 weeks)
ACCESSIBILITY:
By public transportation: tramways 18, 19, 47 and 49, buses 7, 7A and 86. The Gellért Thermal Bath is located in the centre of the city, o­n the right bank of the Danube, at the bridgehead of the Szabadság Bridge.
Daily Tickets

Prices (Huf)

weekdays

weekand & holidays

Adult ticket with locker usage

4 900 Ft

5 100 Ft

Adult ticket with cabin usge

5 300 Ft

5 500 Ft

Child ticket with locker usage

3 100 Ft

Child ticket with cabin usage

3 300 Ft
A BATHING DISABLED!